HUAWEI nova 3i: Up Your Game with AI Power Management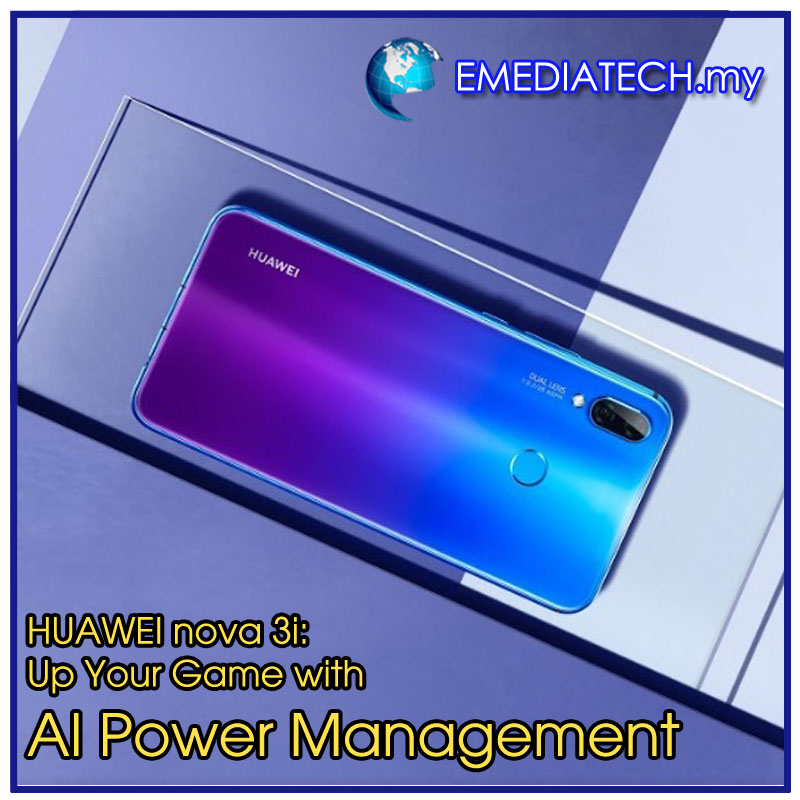 Consumers are now getting more connected with seamless connectivity from 4G and higher internet speed packages. As multi-hyphenate individuals, smartphones have transformed the way we live our lives – from entertainment, to socialisation, to work. To be able to sustain the multi roles of our smartphone device, the lifespan and performance of the battery is crucial. How do consumers get through the day with their smartphone? Extra power bank to save the day?
The answer: Artificial Intelligence (AI) power management.
HUAWEI ushers in an age of AI power management with the launch of AI processor Kirin 710 in July 2018. Being the first ever device that adopts the Kirin 710, the HUAWEI nova 3i can learn of its user's behaviors and adjust. For instance, it can recognise user's display brightness preference and optimize the settings automatically; configure the ring volume so that it is at the optimal loudness; trade network speeds for efficiency for users that don't mind going a little slower; slow down the performance of device in periods when users typically do not use the phone; and automatically enable aggressive power saving measures well ahead of battery depletion for users who are usually paranoid about their devices' battery status.
AI enables devices to manage power in a more granular scale, capable of shifting resources to processes that users care about, and away from those that users don't care for. Tailoring power management plans for each individual user according to their needs—that is the core of AI power management.
HUAWEI nova 3i features a 3,340 mAh battery, delivering extremely long battery life for even the most intensive users. Enhanced with the EMUI 8.2, it can delegate less intensive tasks to its smaller cores for the maximum efficiency. The resource management workflow works alongside HUAWEI's communications technology to attain the best levels of efficiency. The Kirin 710 chip is also able to deliver an outstanding and balanced performance as it supports dual SIMs, both on 4G and VoLTE which provides seamless experience, even when experiencing network delays.
Retailing at only RM1,249 excluding prevailing taxes, HUAWEI nova 3i can be purchased at all HUAWEI Experience Stores, display zones, authorized dealers and major telco companies. Customers will also be rewarded with a nova Privilege Card worth up to RM1,000 for every purchase.