Fitbit Alta HR Wristband | Fuschia
Overview
The power of heart rate in our slimmest design yet.
PurePulse® Heart Rate
When it comes to health, heart matters.
Heart rate is a powerful tool that can help you reach your goals faster. PurePulse tracks it continuously on your wrist, without a chest strap.
Better calorie burn tracking
By measuring your heart rate all day and during workouts, you get a more accurate measure of your calorie burn.
Make the most of each workout
Use heart rate zones to see how hard you're working during exercise and dial your effort up or down.
Gain insight into your health
See how working out more can impact your resting heart rate, a key indicator of cardiovascular health.
From walks to workouts, track it all.
Steps, Calories & Distance
Track your all-day activity, and tap the OLED display to see how close you are to your daily goal.
SmartTrack™ Auto Exercise Recognition
Alta HR auto-detects workouts like running, elliptical, biking and more, and logs them to your dashboard.
A single charge gives you up to 7 days of battery life—so you can plug in less, and move more.2
Get a better night's sleep.
Auto Sleep Tracking & Alarms
Automatically track your sleep duration and consistency. Then wake up peacefully with a silent alarm.
Using heart rate, Alta HR shows your time in light, deep and REM sleep to help you understand your sleep quality.
Designed smart, to make life seamless.
Call, Text & Calendar Alerts
Receive call, text and calendar notifications on display, so you never miss the messages that matter.
Choose your clock display based on the stats you want to see and the design that suits your taste.
Get friendly on-screen messages that encourage you to reach mini-goals of 250 steps each hour.
Tailor your look for any occasion.
Personal Goal Setting
The Fitbit app uses your data to help you set tailored goals for steps, exercise and more.
Health & Fitness Guidance
Get video workouts right on your phone with personalized recommendations based on your Fitbit activity.
Log your food intake and see your calories in vs. calories out to stay on track toward your goals.
Measure your weight, BMI & body fat stats and sync them wirelessly with the Fitbit Aria® Wi-Fi Smart Scale.
Alta HR syncs automatically to 200+ iOS, Android™ and Windows® devices.
Find inspiration with the #1 health and fitness app.
With a collection of metal, leather and classic accessory bands, Fitbit Alta™ makes it easy to create a look that fits the occasion.
Reach your goals with the Fitbit app and dashboard.
Fitbit Alta™ syncs wirelessly to computers and 200+ devices, so you can log food, record workouts, explore your trends and connect with friends—all in one place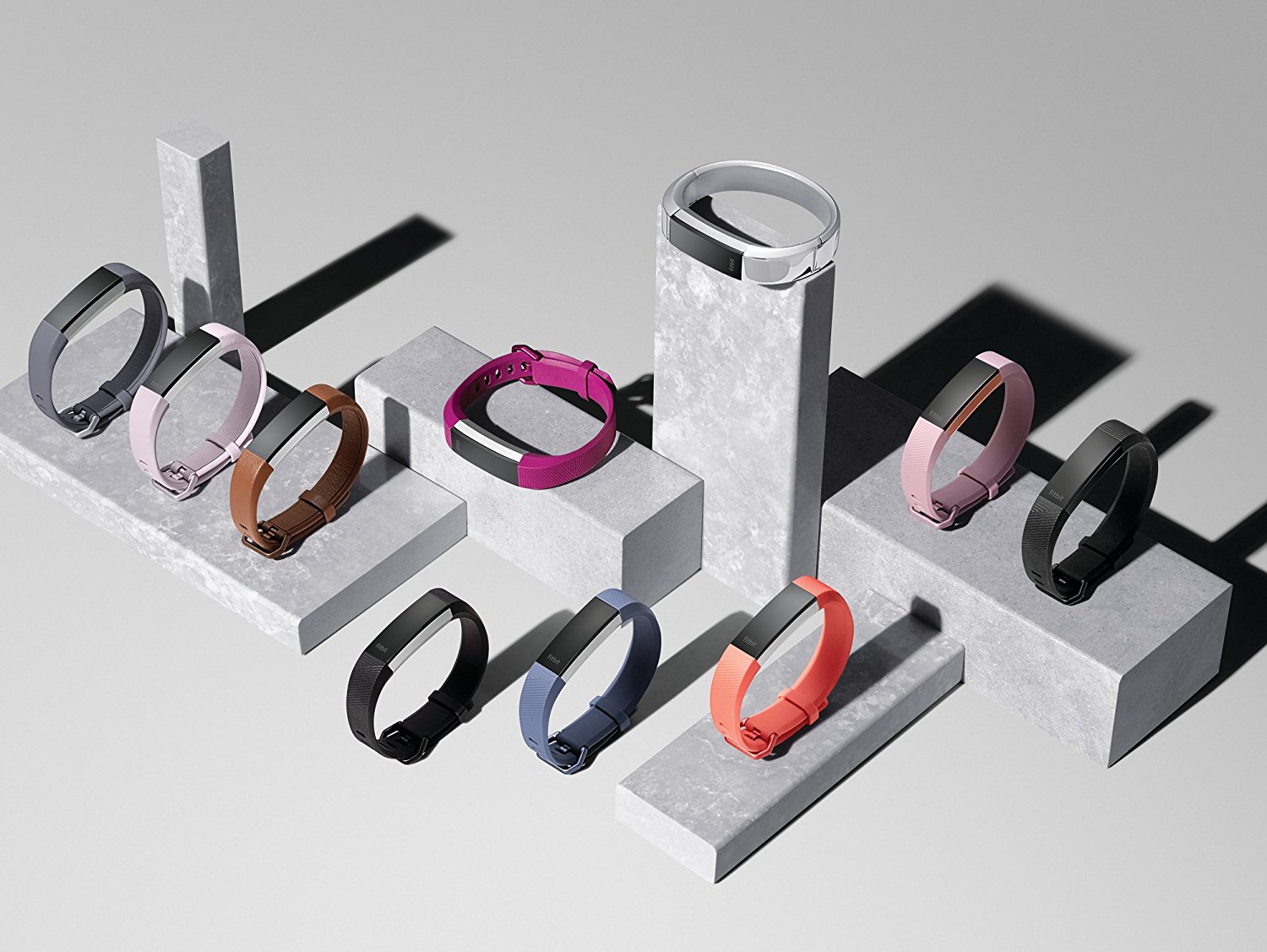 Product Details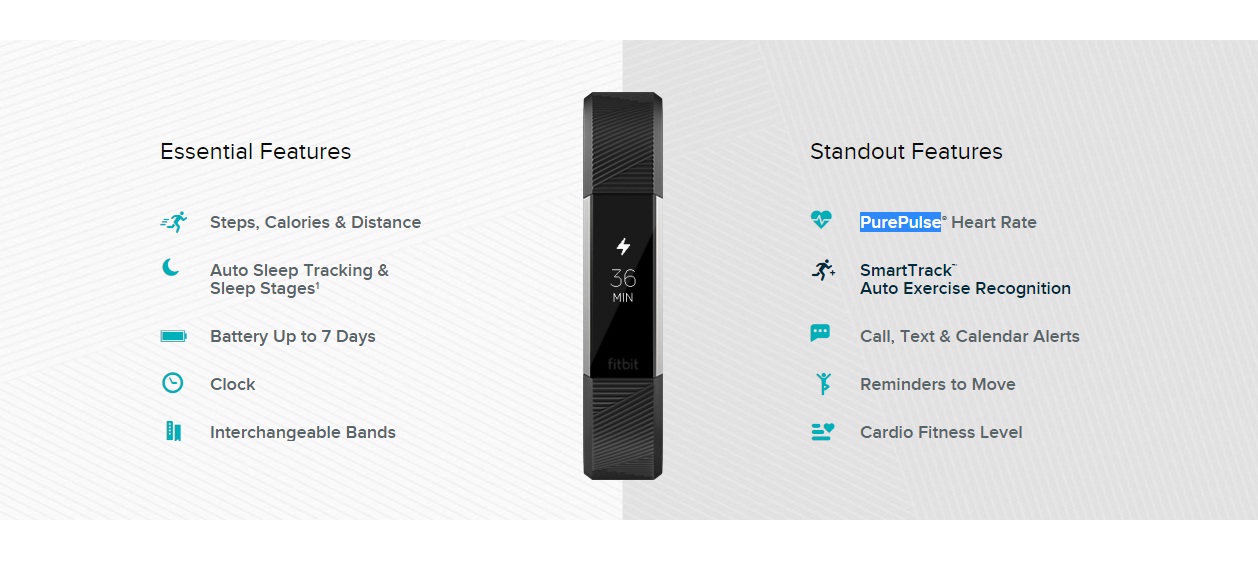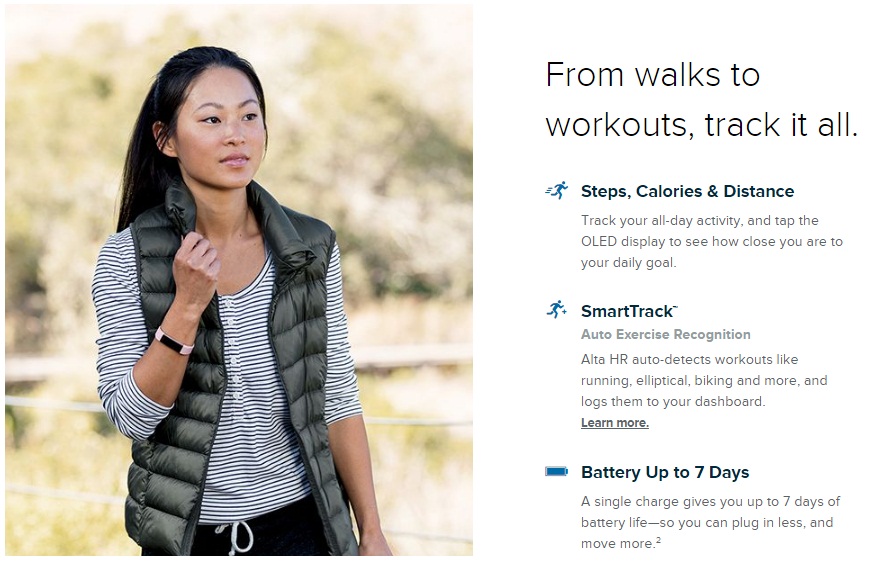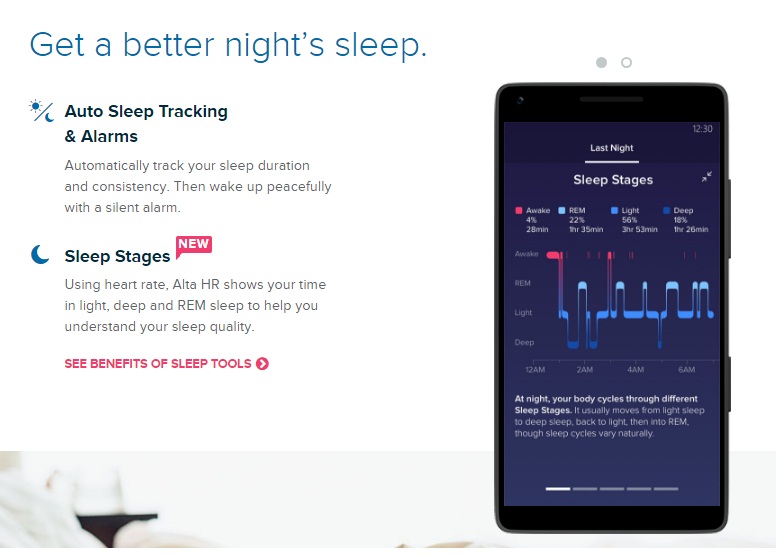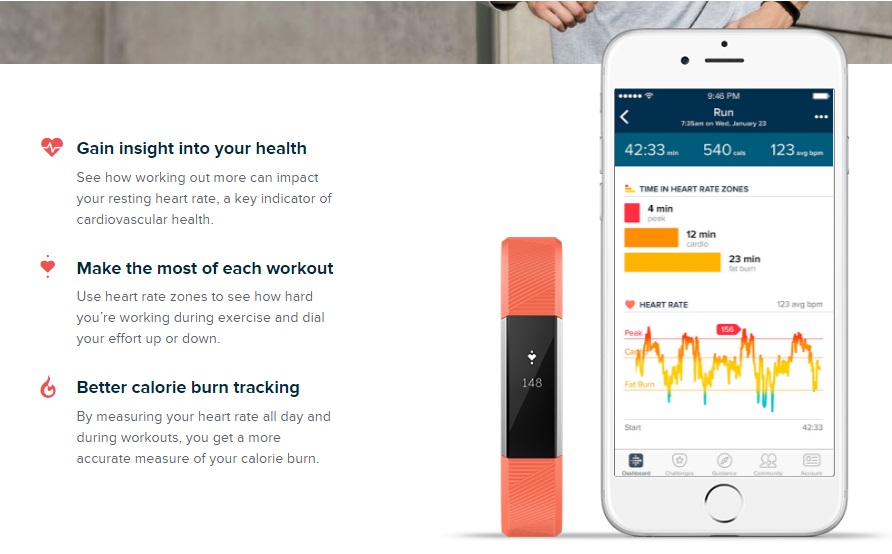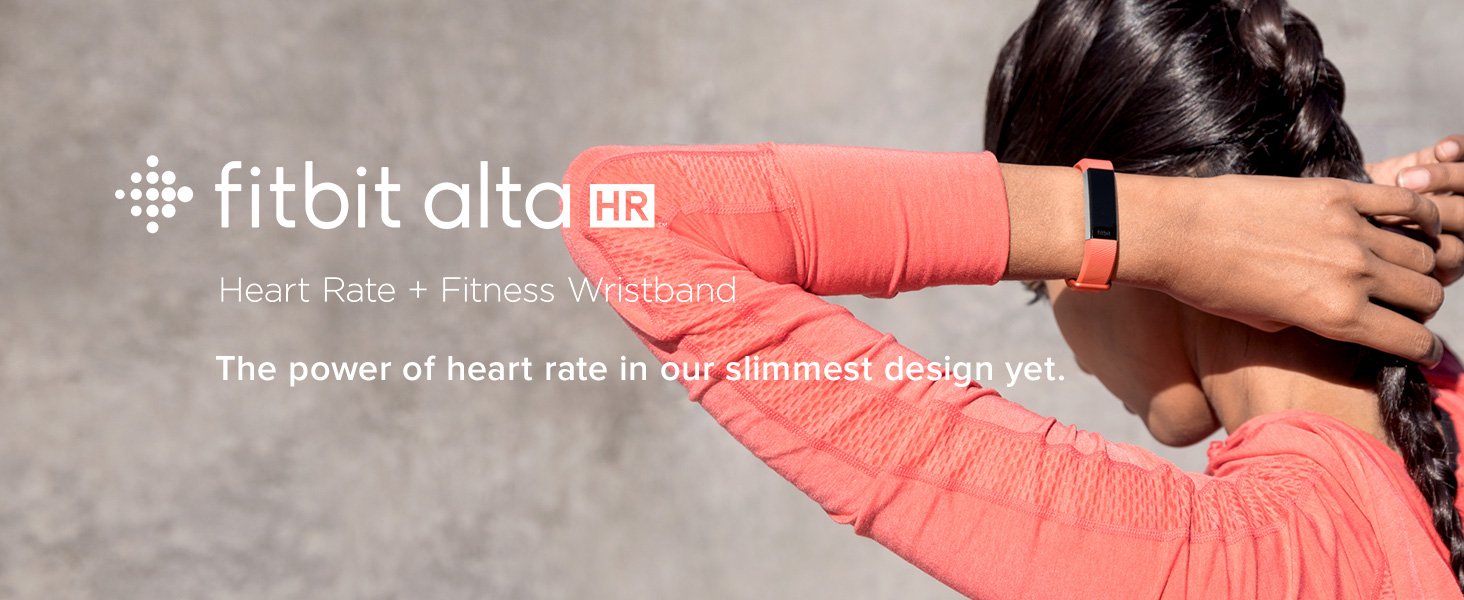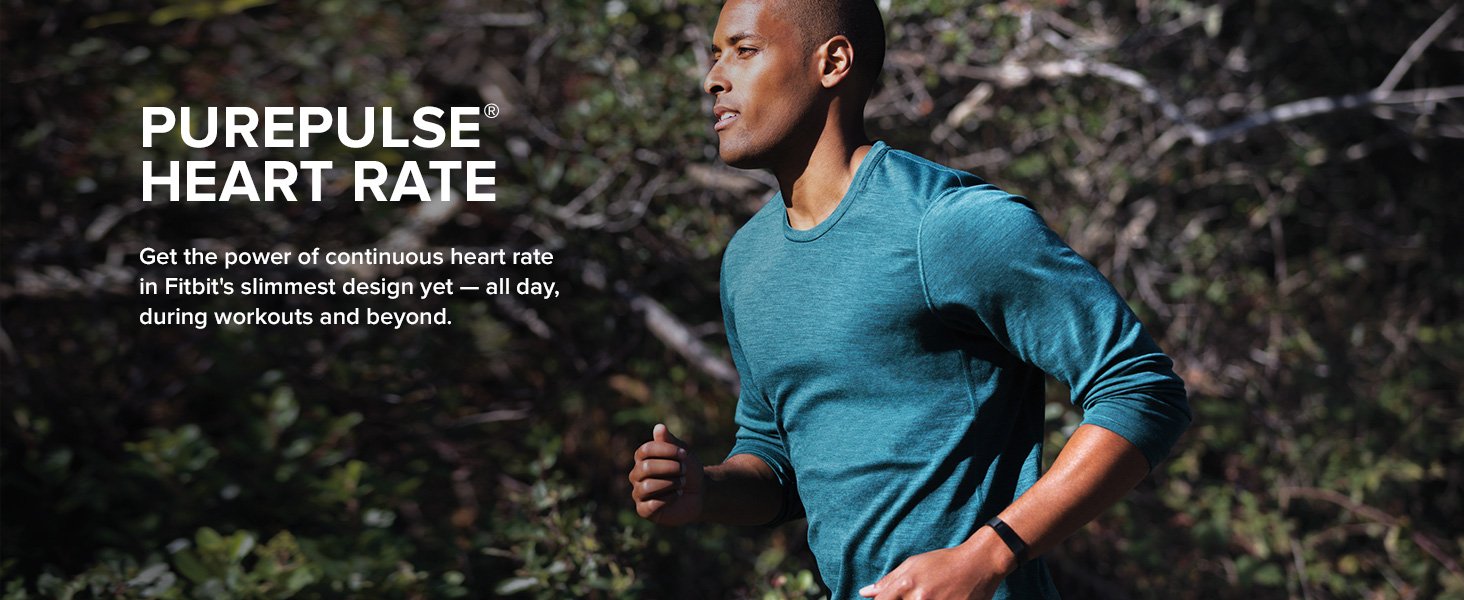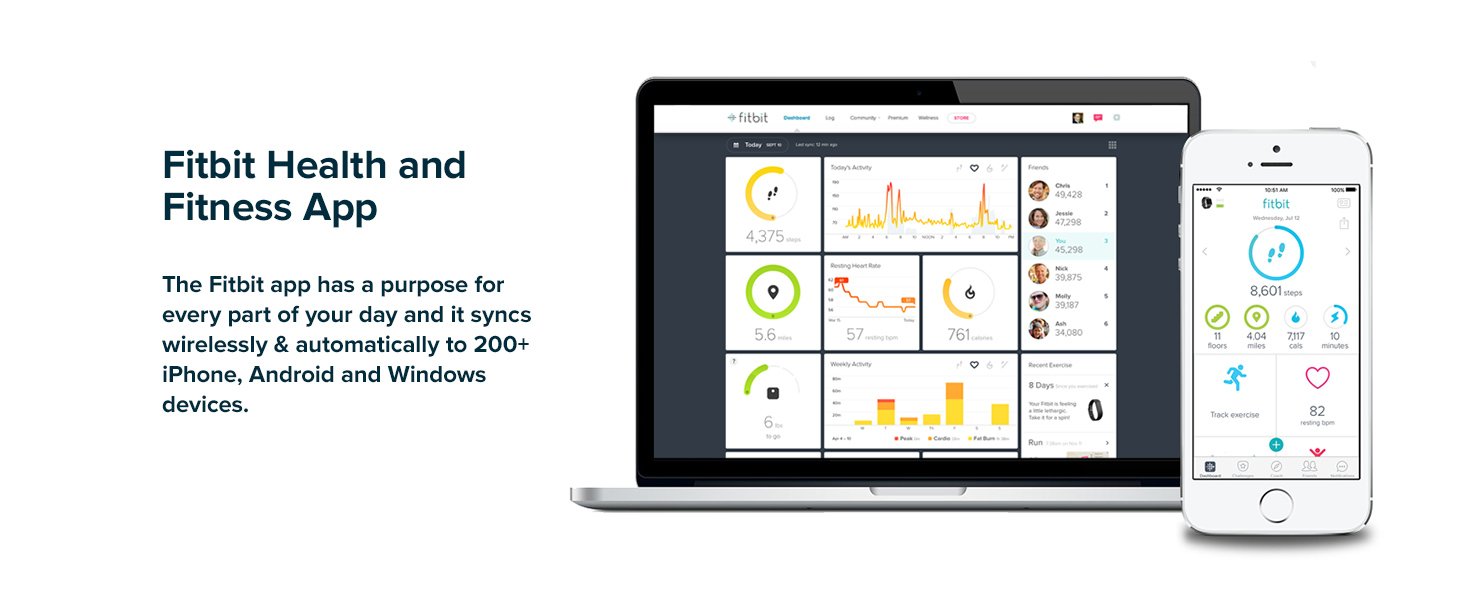 Specification
| | |
| --- | --- |
| WINDOWS PHONE COMPATIBILITY | Yes |
| WINDOWS PC COMPATIBILITY | Yes |
| WIDTH | 0.59" |
| WI-FI | No |
| WEIGHT | 0.07 lbs |
| WEB-BASED APP | Yes |
| WATER RESISTANT | Yes |
| WARRANTY | 1 year |
| TOUCHSCREEN | No |
| STEP TRACKING | Yes |
| SLEEP TRACKING | Yes |
| SCREEN DISPLAY | OLED – Monochrome |
| REPLACEABLE BATTERY | No |
| REAL-TIME SYNC | Yes |
| PROPRIETARY CHARGING CABLE | Yes |
| MULTIPLE SIZES AVAILABLE | Yes |
| MULTIPLE COLOURS AVAILABLE | Yes |
| MOBILE APP REQUIRED | No |
| MAC OS COMPATIBILITY | Yes |
| IOS COMPATIBILITY | Yes |
| HEIGHT | 0.41" |
| HEART RATE MONITOR | Yes |
| GPS | No |
| FLOOR TRACKING | Yes |
| DUST RESISTANT | Yes |
| DISTANCE TRACKING | Yes |
| DEPTH | 0.38" |
| CHARGING TIME | 1-2 hours |
| CHANGEABLE WRISTBAND | Yes |
| CALORIE TRACKING | Yes |
| CABLE SYNC | No |
| BUILT-IN SPEAKER | No |
| BUILT-IN MICROPHONE | No |
| BLUETOOTH | Bluetooth 4.0 |
| BLACKBERRY COMPATIBILITY | Yes |
| BATTERY TYPE | Lithium-polymer |
| BATTERY LIFE | Up to 5 days |
| BAND MATERIAL | Elastomer, Surgical-Grade Stainless Steel |
| ANDROID COMPATIBILITY | Yes |
| ALARM | Yes |
| ADJUSTABLE WRISTBAND | Yes |
| ACTIVITY TRACKING | Yes |
Contact Us
Customer comments
| Author/Date | Rating | Comment |
| --- | --- | --- |