J5 Create JUA355 USB 3.0 to HDMI SLIM Display Adapter
Overview
• Easily add an additional display instantly through the USB 3.0 and VGA/DVI/HDMI connection.
• Video playback performs at 1080p HD with a resolution of up to 2048x1152.
• Add an additional monitor without adding an expensive, internal video card, avoiding complicated installation.
• Hot-swappable USB enables you to add or remove monitors without rebooting your system.
• Move and view your large spreadsheets across two screens without overlapping windows.
• Multitask with larger landscape/desktop space.
• Ideal for viewing multiple windows at the same time.
• Great for multitasking in a wide variety of fields including: Call centers, Stock Markets, Hospitals, Graphic Design, Editing, Accounting, Etc.
• A must-have for surfing the web and working on your email/Facebook/Twitter accounts all at the same time.
The JUA355 USB 3.0 HDMI SLIM Display Adapter works as an external video card, instantly allowing users to attach additional displays via an HDMI connection without the hassle of a lengthy setup or having to install additional internal hardware. The USB 3.0 Display Adapter can support up to four displays running on the same computer, turning your workstation into a fully-functioning multi-display powerhouse.
You can have your second monitor with an extended display, a mirrored display, a rotational display (rotation mode not available for Mac), or make it your primary monitor.
Specification
Interface

Host Interface

USB 3.0 Male Type-A Connector

Video Interface

HDMI Female Connector

Power

Power Mode

Bus-powered

Power Consumption

≦500mA

Physical Specification

Housing Material

Aluminium

Dimensions

Main body: 23.4(W) x 67.72(H) x 14.45(D) mm
Cable length: 129.5 mm

Weight

Approximately 33.5 g
System Requirements
Microsoft Windows 10 / 8.1 / 8 / 7 / XP (32-bit or 64-bit) Compatible
Mac OS X 10.6~10.11 Compatible
Available USB 3.0/2.0 port (USB 3.0 recommended)
Driver will automatically install on 10 / 8.1 / 8 / 7 (Requires internet access)
Minimum System Requirements
QTY

1 - 2 Displays

3 - 4 Displays

CPU

Intel Dual Core 1.8GHZ or above

Intel Dual Core 1.8GHZ or above

RAM

2 GB memory or higher

4 GB memory or higher

Full HD Video

Playing video on the extended monitor
CPU: Intel i5 Quad Core 3.10 GHZ or above
RAM: 4 GB or higher
Higher Processor recommended for Multi-Displays and optimal performance.
NOTE: USB HUB is not recommended for USB 3.0 display adapter.
Note for Video Player:
Windows 7 & 8 users: Windows Media Player is recommended for video playback
Windows XP & Mac users: Windows XP & Mac products are not supported by USB 3.0 at this time; therefore, we suggest USB 2.0 for office application only; Video playback is not recommended due to USB 2.0 bandwidth limitations causing limited video performance.
Playing video with multiple monitors: Only Media Player Classic is supported.
Note:
Due to constant advancements in technology we, at j5create, make it a priority to give you the latest drivers available for our products. To ensure that your device is equipped with the most current driver, please visit our driver page and install the latest driver for this model.
Package Contents
JUA355 USB 3.0 HDMI SLIM Display Adapter
Quick Installation Guide

---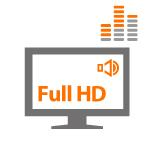 Supports Full HD Video Resolutions
Plug-and-play USB connectivity after software installation
Supports display resolution: 2048×1152 @ 32bit
Add up to 4 adapters for multiple displays for office applications
---
Increase Efficiency
The easiest way to add a second display
Use up to 4 adapters simultaneously

---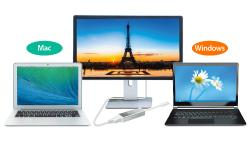 Universal Compatibility
Compatible with both Mac & Windows, also backwards with USB 2.0
---
Fast installation With A Simple USB Plug In
Simple plug-and-play function allows you to connect your computer to a second monitor or projector and within seconds create a new visual environment.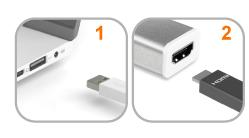 ---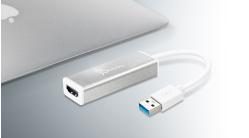 Thin and Sleek Design
Premium Sliver Aluminum Casing, perfect for your Notebook
Customer comments
| Author/Date | Rating | Comment |
| --- | --- | --- |