Xiaomi Mijia Electric Scooter | Black
Overview
The first electric scooter introduced by XiaoMi with a bunch of features such as EABS System, cruise control and front and rear LED lights with IOS and Android APP support. The electric scooter comes with a Kinetic Energy Recovery System that converts kinetic energy to electrical energy and works towards increasing the battery life of the scooter.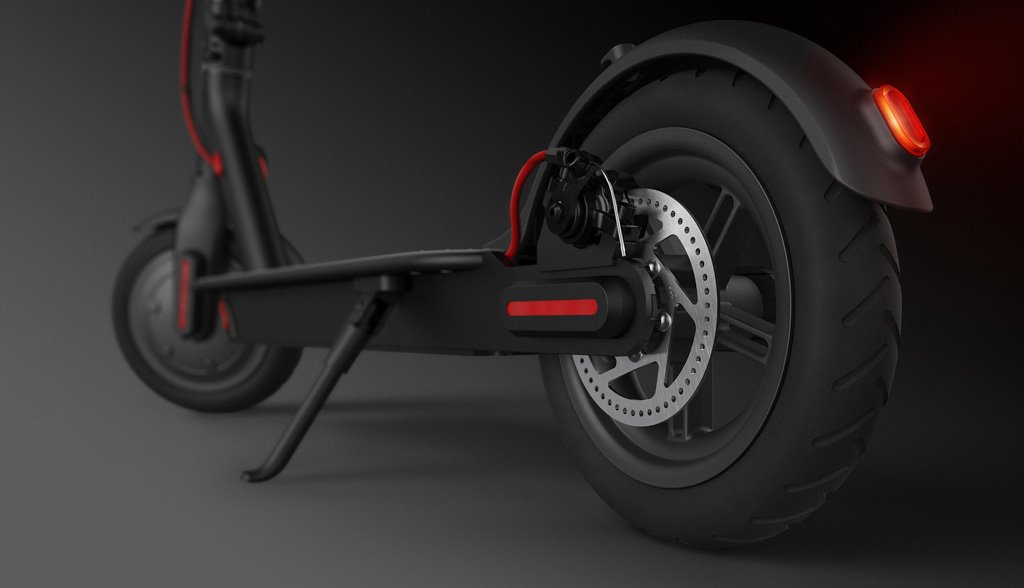 The Mijia has a range of 25-30km, 500W brushless motor and with a top speed of 25km/h and the entire frame is made out of aluminum alloy used in aircraft and flagship smartphones. The XiaoMi can be folded within 3 seconds thanks to the unique design of the folding lock.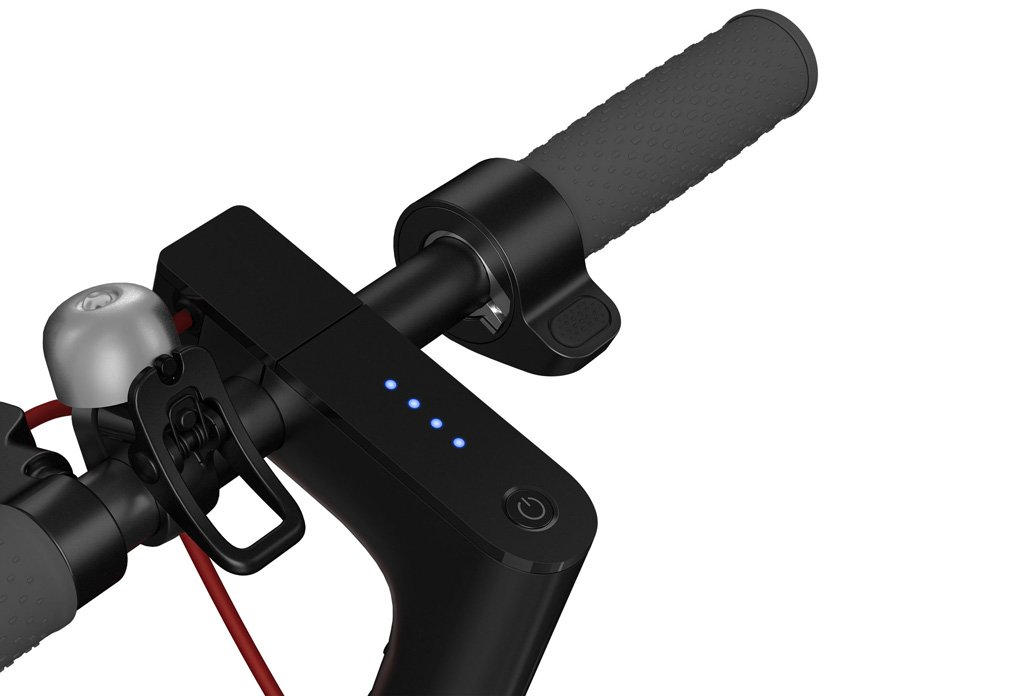 The Xiaomi MiJia is equipped with high-quality LG 18650 lithium ion batteries with intelligent BMS battery management system which prevents overcharging and temperature control. The Mi electric scooter pairs with your smartphone through Bluetooth, giving you an overview of the speed of the ride, battery life, battery health and firmware update can also be done through the App for optimal performance.For all its capability in range and functionality, it does not lack in power and comfort and is definitely one of the best entry level electric scooter right now.
Product Details
Mi Electric Scooter
Let the journey unfold

Intuitive and easy-to-learn
18.6 miles long-range battery life
Double braking system
Portable folding design
Works as simple as it looks
Every aspect of Mi Electric Scooter is crafted with simplicity in mind. The scooter frame, components and accessories use the same geometric design language that puts usability and the user at the front. A single button kicks the scooter to life and the red design accents add modernity. Mi Electric Scooter is made to look right, and feel right.

Minimally designed
Uniform geometric design elements
Made for comfort
Curved pedal board
Folds up
Simple folding levers
Folds in 3 easy steps
Flip, fold, clip.
Simply flip down the folding lever to fold, and the scooter bell catches onto a latch on the rear wheel.
The result is a compact and secure folding design that's perfect for stowing Mi Electric Scooter away
at home, in the office, or in the trunk of a car.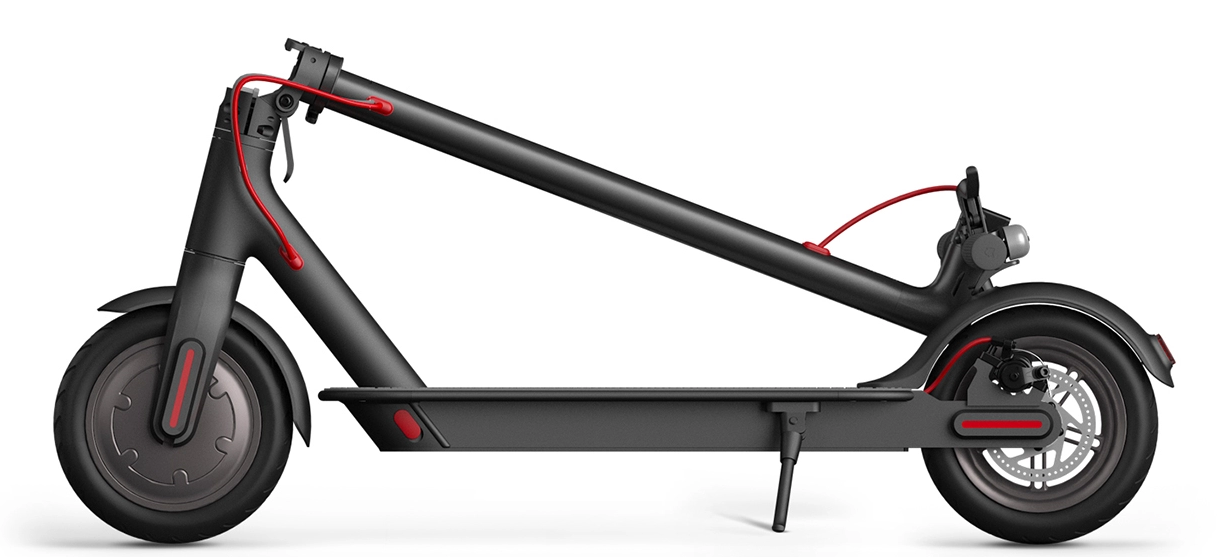 Aerospace-grade aluminum frame
Weighs just 26.9 lbs
The sturdy frame is made of aerospace-grade aluminum, which has a low density and high
structural strength. It also has excellent thermal conductivity and corrosion resistance for added durability.
At just 26.9 lbs, Mi Electric Scooter is a great portable size and weight for carry-ons and for maneuvering stairs and pavements.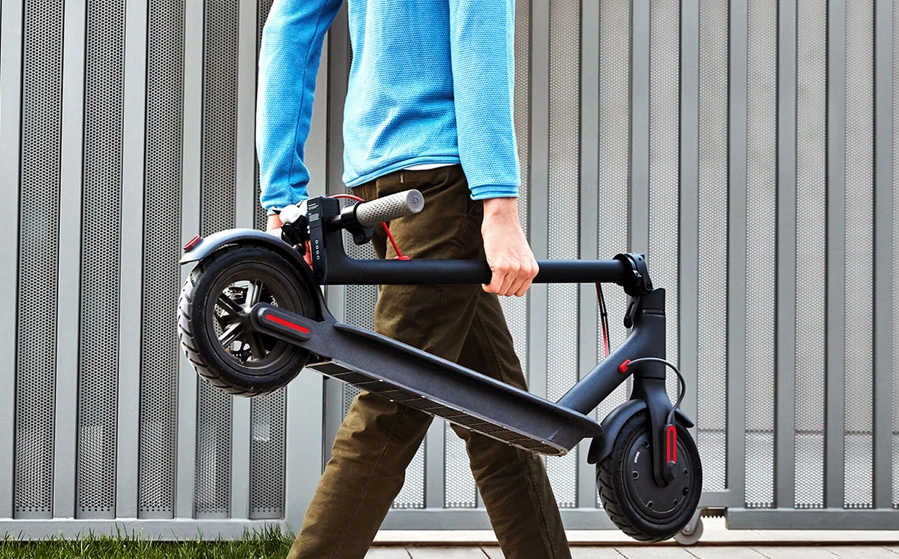 Anti-slip handle
Provides a great grip and control over the scooter, even for longer rides.
Controlled acceleration
Give the accelerator a gentle downward push and adjust the amount of pressure
until you reach a comfortable speed.
Battery life at a glance
4 LED notification lights on the dashboard indicate remaining battery life.
Power button controls
Single press to switch on. Long press to shut down. When Mi Electric Scooter is on, a short single press will switch headlights on/off. Double press to switch between normal and power saving modes.
Ultra-bright
headlights

Headlights are essential for night riding, yet not all scooters have them. Mi Electric Scooter features an ultra-bright 1.1W headlights with a range of up to 6 meters for added safety.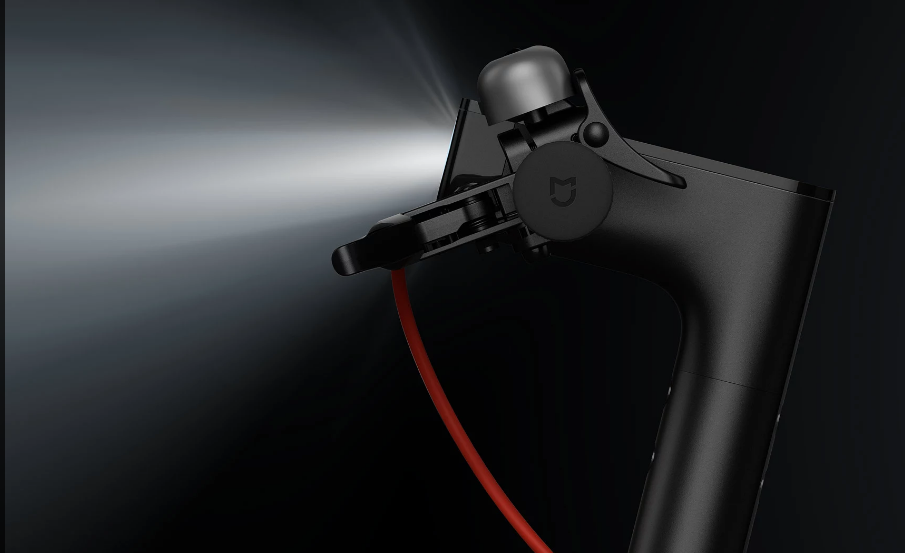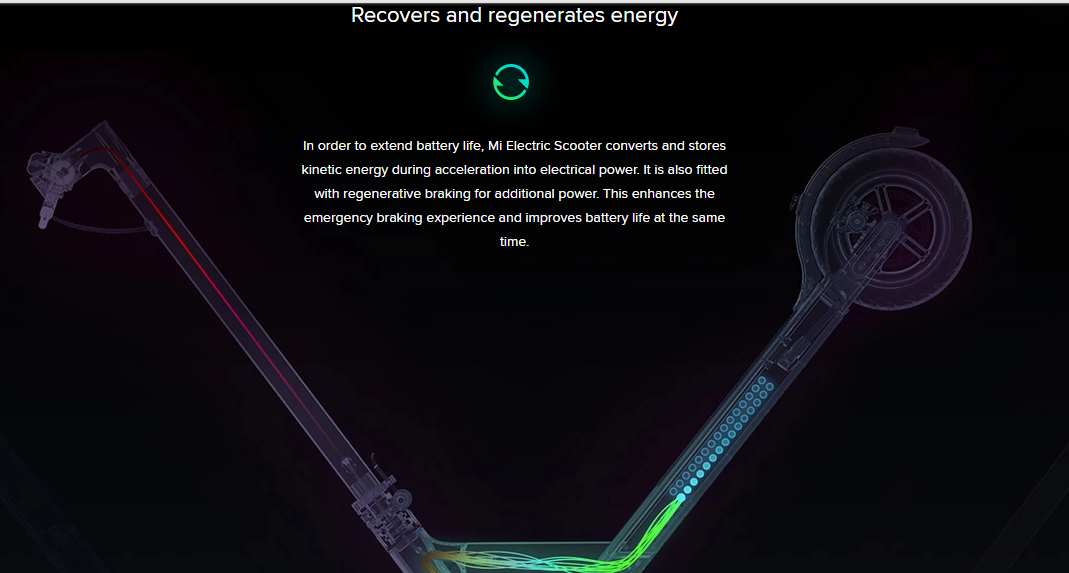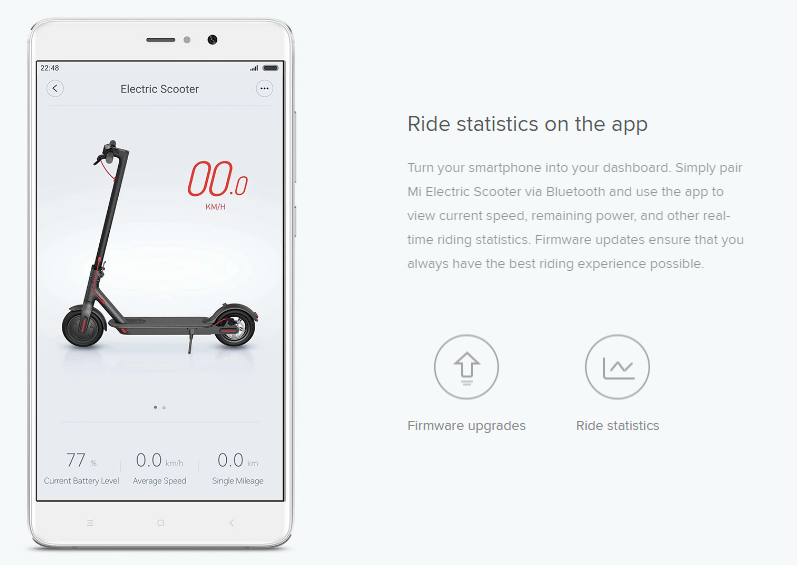 Specification
Dimensions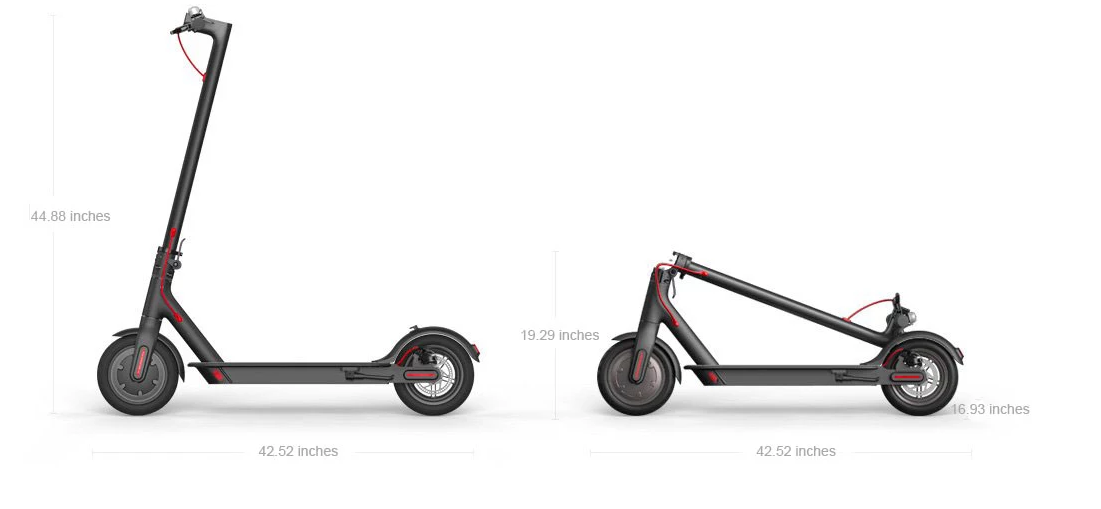 Dimensions (Upright)Approx. 42.5 * 16.9 * 44.9 inches
Dimensions (Folded)Approx.42.5 * 16.9 * 19.3 inches
Specifications
Model:M365
Weight:26.9 lbs
Frame:Aerospace-grade aluminum
Tire size:8.5 inches
Motor size:6.7 inches
Colors:Black
Speed
Max speed:Approx. 15.5 mph
Max torque:16 N•m
Motor rated power:250 W
Max instantaneous power:500 W
Motor control mode:Sine-wave vector and current control + closed loop speed control
Max incline:Approx. 14%
Applicable terrain:Cement, asphalt, flat soil pavements, bumps or steps less than 1cm high, less than 3cm wide
Pedal board height:Approx. 3.44 inches
Resistance:IP54 dirt, dust and splash resistance
Power
Power structure:30 x 18650 lithium battery units
Travel distance [1]:18.6 miles
Charger rated power:71W
Charger rated input voltage:100-240V~,50 / 60Hz
Battery voltage limit:42V
Charging time:Approx. 5 hours
Smart power management:Short circuit protection, overcurrent protection, double protection from overcharging, double protection from overdischarging, temperature resistance, undervoltage auto-sleep protection
Standard power consumption [2]:1.1kWh per 100km
Braking
Braking distance [3]:13.1 ft on dry flat asphalt
Braking method:Regenerative + disc braking
Tire material:Inflatable rubber tires
Lights
Headlights:1.1W ultra-bright headlights, 6m range
Taillights:LED taillights
Power indicator:4 LED indicators
Mode indicator:Located under the power button. White for normal mode, green for power-saving mode
Other
Power-saving mode:Max speed 18km/h, with more gentle accelerations for beginners
Recommended age:16 - 50 years old
Recommended height:47.2 - 78.7 inches
Max load:220 lbs
Package contents
Assembled Electric Scooter, Extended Nozzle Adapter, 4 x Screws, Hexagon Wrench, 2 x Tires, Charging Adapter, User Manual, Legal Statement, Quick Start Guide, Warranty Card
1. 18.6 miles long-distance range on a single full charge measured under the following conditions: 165 lbs loads, 77°F weather temperatures, a flat road without strong winds, power saving mode, and 9.3 mph constant speeds. Results may vary based on different weight loads, temperature, wind speed, operating habits, and other factors.
2. Power consumption is estimated at 0.335kWh based on electricity metering equipment. 100km standard power consumption calculation: Power required for a single full charge (0.335kWh) ÷ typical mileage (30km) x 100km.
3. 13.1-ft braking distance measured at 12.4 mph speeds, 68℉ weather temperatures, 165lbs load, tire pressure of 35 PSI, and on flat dry asphalt.
Contact Us
Customer comments
| Author/Date | Rating | Comment |
| --- | --- | --- |